So, you've finally done it. After months of searching, negotiations, and setbacks, you've made your dreams a reality and found an amazing new home. Now you can finally breathe a sigh of relief, right? Well...not quite yet.
Whether you're moving one town over or across the country, there's no way around it: moving sucks. It's stressful, expensive, exhausting, and completely unavoidable. Luckily for you, however, we've got you covered.
We've compiled for you the ultimate moving guide; from scheduling movers to updating addresses to moving hacks and packing tips, this check list has everything you need to make your move as stress-free as can be!
2 Months Before the Move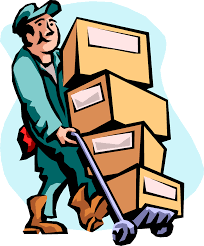 Get familiar with moving companies and services. If you plan on using a professional, start comparing quotes from different moving companies (always make sure they are licensed and insured). If you're not sure what you should be looking for, check out these questions to ask moving companies.

Create a folder (either real or digital) where you record all the companies, quotes, receipts, and any other relevant information regarding the move. And make sure you're reading those moving contracts before signing them!

If you're currently renting, plan on giving your landlord a heads up sooner than later. Depending on the lease, you may be required to give at least 60 days notice before moving out.

Moving with kids? Start researching schools in your community. Niche.com is a great tool to compare schools and districts in your area. Don't forget to get transcripts from their current schools-you'll need those when it's time to enroll!

Create a budget. The earlier you figure out a budget, the better. For a local move, you'll want to allocate at least $1,000. If it's a long distance trip you're talking about, plan on setting aside something closer to $5,000.

Once you settle on a date, request that day (or maybe 2) off of work.
6 Weeks Before the Move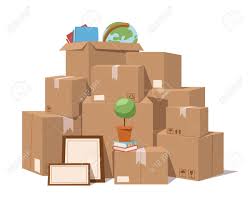 It's time to schedule the movers! If possible, aim for a weekday during the off-season (October- April) to avoid those peak costs.

Start ordering any moving supplies you'll need. This includes boxes, bubble wrap, packing paper, packing tape, and those handy dandy sharpies for labelling all your fragiles. Check with office supply stores, restaurants, and bookstores for free boxes. You can search up calculators online to estimate how many moving boxes you'll end up needing (remember, it's better to have too many than not enough).

Check in with your health, auto, and homeowner's insurance providers to make sure you'll be covered by your plan after the move.

If you have kids in school, contact the school district about your upcoming move.

Keep track of any tax deductible expenses, including donations and job-relocation moving expenses.

Start an inventory sheet to track all of your valuables, including what boxes they'll be packed in (just don't lose the sheet).
5 Weeks Before the Move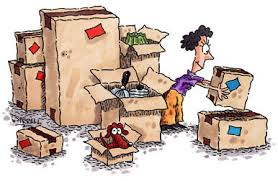 Create a timeline of when to pack what. You'll want to pack nonessentials first, including things like books and home decor. Essentials, like toiletries and clothing, should be packed last.

Start clearing out the clutter. Host a garage sale or donate to your local Goodwill or Salvation Army. A lot of these organizations will also pick up large items free of charge. Don't forget to track of your donations for tax season!

Start cancelling or updating those gym and club memberships.

Clean out your fridge. Get creative in the kitchen with the food you have left in your refrigerator and donate non-perishables to your local food bank.
One Month Before the Move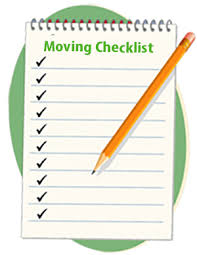 It's time to start packing! Follow your timeline and start with your non-essentials. Label your boxes with different colored sharpies or tape for each room (you'll thank yourself later). Pack your fragiles with care- you can use t-shirts and towels to pad your boxes.

Take pictures of your electronics before unplugging them.

If you're driving a distance, get your car serviced. You want those tires and brakes to be in tip top shape for the move.

Call your moving company to confirm the date and time of your move, as well as any other details about parking or specialty items to be moved. If you haven't already, purchase moving insurance to protect your belongings.

Plan some get togethers with friends and family in the area.

Round up all important financial and legal documents, including things like birth certificates and passports.

Return any rentals, like library books or DVD rentals, as well as any borrowed items from family or friends.

Make sure your pets have ID tags, and, if necessary, request copies of vet records for any medications. It might also be a good idea to get your dog microchipped.

For long distance moves, plan out your route and hotel reservations.
3 Weeks Before the Move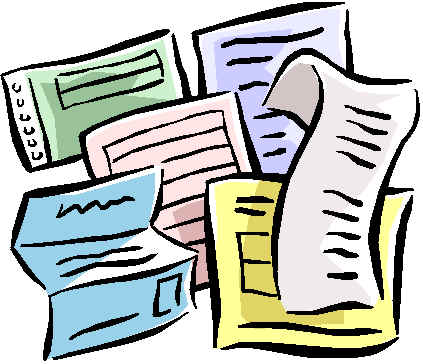 Contact any service providers, like landscapers or housekeepers, about the move. Take some time to scope out these services in your new area. The same goes for your utility providers. If you are unable to transfer these utilities to your new place, start researching utility companies in the area and scheduling installation dates. You don't want to move into a new place with no electricity or running water!

Go to USPS.com to get your mail forwarded for the moving period. If you receive Social Security or Medicare benefits, make sure you update your address with them, too.

Make arrangements with family, neighbors, or a babysitter to supervise the little ones (or your fur babies) on the moving day.

Pay off any unpaid parking tickets.

If you're moving to another state, it might be time to find a new home for your plants. Some states have specific regulations on transporting plants, so check out National Plant Board's website before the move.
2 Weeks Before the Move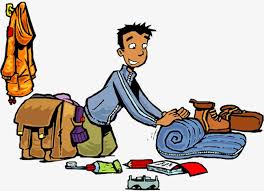 Dispose of any hazardous materials at a hazardous waste facility. This includes corrosives, flammables, and poisonous items. Even certain fertilizers and pool chemicals have to be disposed of properly.

If you've been meaning to hop on the meal-prepping bandwagon, now is the perfect opportunity to try your hand at one of those Pinterest-inspired preps. Try to use up as many ingredients in your fridge as possible.

Backup your computer. Seriously.

Cancel any trash removal services and set up these services in your new place.

Update your address with your bank (don't forget to order new checks), loan providers, credit cards, and payroll. Same goes for any subscription services, like magazine or newspaper subscriptions.

Contact your doctor and dentist and let them know about the move. If you'll be switching doctors, make sure your medical records get transferred. Now is also the time to fill your prescriptions and transfer future prescriptions to a pharmacy by you.

Get ahold of your new home's blueprint, so you can start planning what goes where and relay this information to the movers.

Order any big-ticket items, like couches or bed sets, at least 2 weeks in advance.

If you haven't already, figure out where the moving truck can park for the most efficient loading possible.

Do the future residents of your old place a favor and gather up any warranty information and instruction manuals for appliances you're leaving behind.

Take your pet to the vet for a final check up, and make sure you get any important records (proof of vaccinations/shots).
1 Week Before the Move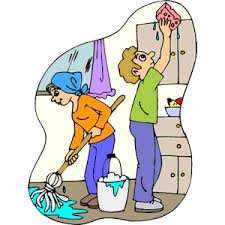 Don't put off cleaning your old home until the last minute. Try to avoid making too much of a mess when packing, and clean up as you go. (Your home's future residents will thank you.)

Get those last minute errands out of the way: grocery shopping, returns, picking up prescriptions, etc.

If you're renting, make sure you reach out to your landlord about a last minute inspection. You'll want to discuss any damages or potential deductions from your security deposit. (You might also want to make some last-minute repairs before you meet with the landlord.)

Make arrangements for a final trash/recycling pick up. If you're going to leave before the next garbage day, ask a neighbor to take your cans back in for you. You can also stop by your local dump/recycling center.

Pack an essentials box with anything you'll need for move-in day (toiletries, change of clothes, meds).

Withdraw cash from your local ATM to tip your movers.

Check and make sure you've rerouted any scheduled deliveries to your new address.

Empty the oil and gas from grills, heaters, lawn mowers, and snow blowers.

Unplug your fridge and defrost it. Don't forget to lay down a towel to absorb any leaking water.
Let the neighbors know about your mov- in day so that they'll know if they need to move their cars for the movers. Plus, it's a nice heads up.
Move-In Day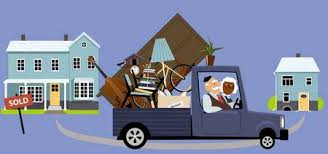 Set your alarm and don't snooze! You'll want to get an early start for the big day.

Make sure your floors and carpet are protected during the move.

Tip your movers. You wouldn't be able to do it without them.

Keep water bottles (or a few reusable bottles) on hand. Moving is hard work and you'll want to stay hydrated.

Take inventory to keep track of all your belongings. Taking pictures helps, too (snap a shot of fragile items for insurance purposes). Make a note of anything missing or damaged.

Do a final check of the house to make sure you aren't leaving anything behind. Check in easy-to-miss spots, like in kitchen cabinets and dryers.

Keep your valuables (passport, social security, jewelry) with you during the move.

Don't forget to hand over the keys to your landlord/new owners.
First Month Post-Move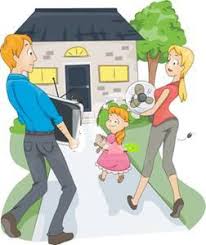 Unpack! It can be an overwhelming process, so start with the basics, like your suitcase, bedding, and kitchenware. Winter coats and decorations can wait.

Try to do a thorough cleaning of the house (sweeping, mopping, vacuuming). If you don't have the time (or energy), schedule a professional cleaning crew to do a sprucing up of your new place.

If you were renting your last place, check with your former landlord about the status of your security deposit return.

Check out the community. Take a walk or bike ride through your new neighborhood, explore downtown, try out some new places to eat.

Ask a neighbor or call your city's sanitation department about pickup days for trash and recycling.

Check the smoke alarms, and consider investing in carbon monoxide detectors if your new place doesn't already have them.

Schedule a visit from a local electrictrician and pest control to identify any potential power or pest problems.

Register to vote in your new town, update your drivers license, and register your pet if you've moved them across state or county lines.

Moving with a baby? Don't wait to start baby-proofing. Get rid of any dangerous packing materials as soon as possible, cover up electric outlets, and set up baby gates in front of any stairs.

Meet the neighbors! Don't be afraid to introduce yourself; if you need an ice breaker, ask for local food recommendations.

Send thank you notes to anyone that's helped you with the moving process: friends, family, neighbors, your real estate agent.
P.S. If you're still feeling overwhelmed with the moving process, it helps to consult with a professional. Get in touch with an experienced realtor like Andrew Urban, someone that can answer your questions and concerns, guide you through the process, and provide a second opinion when needed. With MyUrbanHomeTeam, Andrew has helped hundreds of clients in the Benicia Vallejo area buy and sell homes for over 10 years. From inquiries on a home's value to assistance with preparing your home for the market, no question is too big or small for Andrew, who boasts an extensive background in real estate and a laundry list of experience in the market. Contact Andrew today at andrew.urban@kw.com.